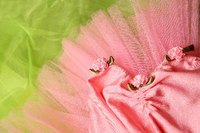 A tutu is a necessity if you're creating a ballerina or fairy costume for your baby. Commercial costumes can cost a small fortune and they don't always have just the right style for your baby. Additionally, store-bought costumes are typically for toddlers or older children, so they can be too big for your baby. Fortunately, you can easily make a tutu for your baby.
Things You'll Need
Elastic
Scissors
Spool of tulle ribbon
Needle and thread (optional)
Embellishments (optional)
Cut a length of elastic. Wrap the elastic around your baby's waist and add an extra inch to create the closure. You don't want the elastic to be too tight around your baby's waist, so don't stretch it. Adding the tulle will make it tight enough.
Connect the ends of the elastic to form a circle. Tie a simple knot or sew the ends together with a needle and thread.
Cut tulle to the desired length. Use a tape measure to determine how long you want the tutu to be, then double the measurement when cutting. For example, if you want your baby's tutu to be short, you probably want a six-inch tutu, and so you'd cut 12-inch lengths. It make take 50 or more pieces of tulle to fill out your tutu.
Tie the tulle ribbon around the elastic. Place the knot in the middle of the length of tulle. Repeat until the tutu is very full, sliding the knots very close to each other.
Add embellishments, if desired. Your tutu will look cute as-is, but you can add ribbons or small rosettes along the skirt to add to the effect.