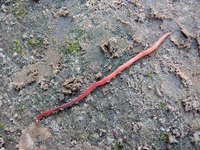 Telling people that you have a "wiggler farm" might raise more than a few eyebrows, but hybrid worm farming is a legitimate and often profitable business that you can set up in your backyard or basement. Earthworm farming is an easy enterprise to establish. Hybrid worms don't take up a lot of space, are quiet, easy to maintain and will flourish in the proper environment. They require only a very small investment in money and time. All you need is hybrid worms, a bin to put them in and some organic compost. Follow the steps below to successfully farm worms indoors.
Things You'll Need
Hybrid worms
Large container(s)
Hand drill or hammer and large nail
Organic soil and compost
Check with your local government to find out if you need a permit and/or resale license to farm worms for profit. Ask questions and get referrals to county and state government resources to find out if they have requirements also. Some municipalities consider worm farming an agricultural endeavor, so be sure to learn if there are any zoning restrictions related to worm farming.
Investigate earthworm wholesalers by contacting your state's attorney general to verify they have a good reputation. Also ask the wholesaler for references that you can contact. Once you are satisfied that the wholesaler is legitimate, purchase a stock of hybrid worms. Many new worm farmers will enter into a contractual agreement with the wholesaler. Wholesalers who do this will sell the worm farmer breeder stock with the assurance that they will purchase their offspring. This is an appealing arrangement because the novice worm farmer has a stable market for his worms.
Decide if you want to raise the worms indoors or outdoors. Hybrid worms will thrive and reproduce best in temperatures between 60 and 70 degrees Fahrenheit. Setting up the worm farm indoors is the simplest and least expensive way to ensure that optimum temperature and lighting can be maintained.
Prepare the bins where you are going to raise the hybrid worms. You can use old livestock watering troughs or other large metal containers filled with earth. Before you fill the container with earth and your worm stock, drill several holes in the bottom of the trough for water drainage, and place the bins where there is adequate drainage because the worms and soil will need to be kept damp.
Fill the worm bins with some peat moss, dirt, compost and any other kind of organic waste. The material should be loose and any materials used in the bins should be very well-aged and decomposed. Worms are very easy to feed and will thrive in almost any kind of organic material.