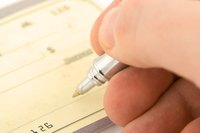 Writing a check is a quick and easy transaction to make. It saves time, it's safe, and it allows you to create a clear paper trail between you and a payee. For thorough record-keeping, use the memo line on your check to record specific information about your transaction. This is a way to relay messages to your payee, or even to record information you know you'll forget later.
Things You'll Need
Determine the type of message you'd like to leave in the memo field of your check. For example, write "for payment to loan number 123456" to make sure your check is applied to the proper account. This will help the payee avoid confusion when applying your payment. You might also want to leave yourself a note if you wrote a check to an individual. Alternately, write something like "For John's birthday" or "Gutter cleaning," so it's easy to remember why you wrote that check in case you forget six months down the road. Or leave a personal message to your payee, like "Happy Birthday, John!"
Verify spelling and any account numbers you've added to the memo field. Ensure the right information is written so your payment is processed correctly. This information can also be used in case of any future disputes regarding payment for loan accounts.
Make any necessary changes in case of misspellings or missing information. For example, you may have forgotten to add a digit to the loan number you've intended to pay and it reads 1234 instead of 12345. This could result in headaches for you down the road if your payment is processed incorrectly.