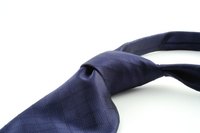 Tying a necktie should take only a minute or two and give you a simple, professional-looking knot that you shouldn't have to fuss with or redo. Several necktie knots exist, with slight differences in the steps you take to tie them, giving you slightly different looks. However, the most basic and simple necktie knot is the four in hand knot. This is the favorite knot of the websites boardroomties.com and necktieaficionado.com. The latter website claims, "The reason we love this knot is because it's easy to make in just five easy steps, and it produces a wonderful necktie dimple."
Place the tie around your neck with the wide end hanging on your right side, 12 inches below the narrow end, hanging off the left side of your neck.
Cross the wide side over the narrow side, making a loose "x" shape.
Pull the wide end of the tie underneath the narrow end. Then pull the wide end back toward your right side.
Cross the wide end back over the skinny end as you did before. Make sure this cross is somewhat loose.
Tug the wide end behind and through the loop around your neck.
Hold the front loop between your fingers loosely and pull the wide end through this loop. At the same time, insert a finger underneath the knot to squeeze it and its surrounding sides, encouraging dimples to form.
Take your finger away from underneath the knot and pinch the bottom of the knot to encourage dimples to form. Carefully tighten your tie to your collar by squeezing the knot upward while holding the narrow end of the tie tautly in your hands.
Straighten and fluff the two sides of the tie beneath the knot.