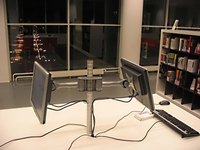 Starting a tech support business is a computer techie's dream job. However, once reality sets in people who are gifted in the area of fixing computer technical issues will need to face the truth that starting a tech support business is not as simple as having a talent for computers. There are a vast number of areas which a computer technical support company need to understand such as computer hardware, software, blackberry repair, and cell phones with computer access to name a few. Become an expert at one or more of these specific areas and you can fill a need many computer issues have each day with your tech support business.
Create a plan for your company. Craft a business blueprint which will outline the steps you are going to implement to take your tech support business from ground zero to well-established powerhouse. Be sure to get specific when creating your business plan in order to make it easier for potential investors and financial institutions to provide funds for your tech support company in the future. Include areas such as where you want to be in 5 years, your areas of focus, where you will be in one year, and the plan you have to drive traffic to your physical or online location.
Find out which licenses and permits are required in your area. Contact the local Department of Business in your state. Consider hiring a lawyer to set up the type of company you desire such as an S Corporation or Limited Liability Company. If you are tight on money, consider using an online service such as legalzoom.com to set up your tech support company.
Decide on the services you will offer. Conduct your own research by phoning computer stores in your area. Obtain the contact information of your competitors by looking online at their websites or in your local yellow pages. Offer the same services your competition offers for a cheaper rate.
Find Clients. Walk into businesses in your local area and give these companies flyers. Include your name, phone number, e-mail address, and list of services you offer on these flyers. Let them know you are willing to come to their physical office or attempt to solve their computer issues on the phone. Offer first time clients a discount of 20% off your regular rates for referring other businesses they know to your tech support company.