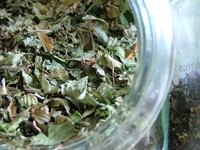 You can make a green tea facial scrub that gently exfoliates and leaves skin softened and refreshed. Many high-end all natural facial scrubs contain green tea or a green tea extract. For a fraction of the cost of retail facial scrubs you can create a fresh green tea scrub with no preservatives or chemicals using items you may already have in your kitchen.
Things You'll Need
1/2 cup loose green tea leaves
Food processor
1 cup plain yogurt
Pinch vitamin C powder
Drop essential oils (optional)
Silicone spatula
Bowl
Dump the loose green tea leaves into a food processor and seal the lid securely before pulsing the leaves into a fine powder.
Add the yogurt and vitamin C powder to the food processor and pulse until the ingredients are fully combined. Add a drop of essential oils to give the facial scrub a natural scent.
Remove the blade from the food processor and transfer the facial scrub to a small bowl uisng a silicone spatula.
Wash your face with gentle soap and water. Apply the scrub to your face using two fingers in a tight circular motion.
Remove the scrub with a warm, damp washcloth after it has been on the skin for 3 minutes. Rinse the washcloth several times to fully remove any remaining pieces of green tea leaves.