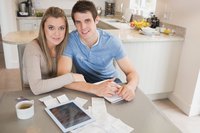 A judgment is a hefty blemish on your credit report. Creditors will see that you had to be sued in an attempt to collect a debt. A judgment is entered against you by a court and gives the creditor certain rights, depending on your state, that can include the ability to garnish your wages or seize personal property. Judgments also appear on your credit report as a public record. Check your credit report with all three credit reporting agencies, as you may need to dispute it with all three.
Judgment on Credit Report
A judgment is the result of a lawsuit. Usually the judgment stems from a creditor that sues and wins the judgment against you in court. The creditor can be anyone you owe money to, including credit card companies or collection agencies that are owed outstanding debts. Judgments are sometimes entered in default. If you believe there has been an error or you were not properly summoned, legal advice is warranted. A judgment can stay on your credit report for up to seven years. In some states, if the judgment is renewed, it could be reported even longer.
Disputing a Judgment with Equifax
You can file a dispute with Equifax online using its Online Dispute system. The system requires you to provide personal information to identify your file. Upon providing the information, you select the judgment you are disputing and begin the investigation process. You can return to the website to check the status of the investigation and will be notified electronically at the email address you provide of the decision. If you prefer to file by mail, use the dispute form from the Equifax website and mail it and any supporting documents to Equifax Information Services LLC, P.O. Box 740256, Atlanta, GA 30374. Investigations can take up to 30 days, or 45 days if you obtained a free credit report to initiate the investigation.
Disputing a Judgment with Experian
Dispute the judgment with Experian directly on its website. Indicate that you would like to start a new dispute online, when prompted. You will need to access your credit report using either the credit report number on a recent copy of your Experian report, or by entering personal information used to identify you. You can also file your dispute by mail. Send dispute information to Experian at P.O. Box 4500, Allen, TX 75013. Include your full name, date of birth, Social Security number, addresses where you have lived for the past two years, a copy of your driver's license, a copy of a utility bill and the list of the item(s) you dispute with the reason for the dispute. The investigation can take up to 30 days.
Disputing a Judgment with TransUnion
Dispute the judgment with TransUnion online. If you do not have a TransUnion account, you will have to register and create one. You will be required to provide personal information to create the account and verify your identity. The investigation can take 30 to 45 days. If the agency cannot verify the judgment is accurate during that time frame, it will be removed from your report. You can also dispute the judgment by phone by calling 800-916-8800 Monday through Friday, 8 a.m. to 11 p.m. EST. Or you can download a dispute form from the TransUnion website and mail the completed form to TransUnion Consumer Solutions, P.O. Box 2000, Chester, PA 19022-2000.