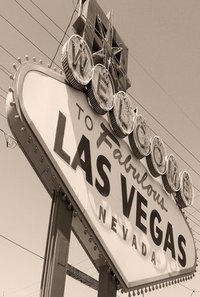 Visiting Las Vegas can be overwhelming with choices of shows, hotels, casinos and attractions. The city provides a city guide to tourists, making their visit more relaxed. The Las Vegas Visitor's Guide is updated bi-annually with current shows, new interviews and different hotel profiles. There are three different ways to request a Las Vegas Visitor's Guide. You can receive one in person, by mail or online. The visitor's guide is free.
Things You'll Need
In Person
Visit the Las Vegas Convention and Visitor's Authority. They're located at: 3150 Paradise Road Las Vegas NV 89109
Request a free visitor's guide.
Receive your visitor's guide.
By Mail
Call the phone number 702-892-0711
Let the operator know that you would like to request a visitor's guide.
Give the operator your zip code, name and address. If you live in the Unites States, they can mail you one for free.
On Line
Go to the website: visitlasvegas.com
Click on "FREE Visitor Information Guide." This is at the bottom section of the website, in small white letters.
Underneath the bold letters "Las Vegas Visitors Information," there is a link you are able to click. The link says "Click here to view online…" Click the word 'here.'
The online version of the Visitor's Guide will show up.
You are able to print the entire document, or choose which pages to print. There's a printer icon near the top right of the brochure. Click it.
It gives you the option of how many pages you would like to print. Choose which pages you would like to print by clicking on the drop box arrow next to each of the two boxes.
Click "OK" and a separate box will come up with the option to print. Make sure your preferred printer is highlighted and click "Print."