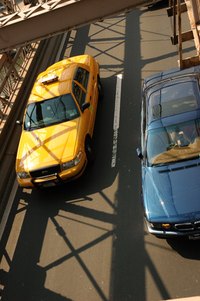 Chicago is a bustling city, and sometimes there just aren't enough cabs for everyone who needs one. If you absolutely need to be someplace at a certain time, allow at least an hour for a cab to arrive at your home or hotel. If you have more flexibility, you may want to try your luck at hailing a cab, or walking over to a hotel or intersection where cabs tend to congregate. Either way, be sure to tip your cabdriver well; he does a tough, dangerous job and deserves your respect.
Calling for a Cab
Call the cab company and make sure you have an street address to give the dispatcher. Many drivers will not take orders if they don't have an exact address. If you need a wheelchair van, be sure to ask for one. Be aware that many cab companies don't have a lot of these, so call in advance to make sure that the accommodations you need are available.
Ask for an estimated time of arrival. If the dispatcher tells you "5 to twenty minutes", you will probably get a cab within that time frame. If the dispatcher says "10 to 30 minutes," you are likely in for a long wait.
Stay inside by your phone or call using your cell phone. Many Chicago cab companies use an automated telephone system to let you know when your cab is on the way. If the system calls and you don't answer, your cab order may be canceled. A driver may also need to call you to check on an address. If he can't reach you, he may not be able to find you or will assume that you found another cab.
Call the cab company back if a taxi hasn't arrived in 20 minutes. Tell them that you are checking on your order. If you really need to be somewhere, explain your situation and ask for an honest estimated time of arrival.
Hailing a Taxi
Walk to a busy street and stand in a well-lit area. Step out into the street as far as it is safe to do so. A cab driver can't see you if you are standing close to a building with several cars parked in front of you.
Keep looking in both directions. If a cab is coming in the opposite direction from where you want to go, hail him and then make a "turning around" motion with your hand. This will let him know that you want him to turn around. If he can't safely do this, he will probably stop anyway and ask you to cross the street.
Hail a cab even if the driver doesn't have "for hire" light on. If he is dropping off a fare somewhere close by, he will know that you are out there looking for a cab and can try and catch you after he is done. Drivers will sometimes turn off their lights if they are going to take a break or go home, but are usually happy for an extra fare and will stop if they know that you need a ride.