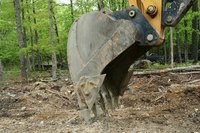 If you do construction work, or if you have a lot of landscaping to do on your property, you may want to invest in a used backhoe with a front end loader attachment. With these two tools you can both move and dig dirt. By purchasing a used backhoe you can save a lot of money from the price of a new model and still get many years of service from the tractor. If you purchase additional backhoe attachments such as a posthole digger, you can save additional money on tasks such as fence building.
Research the price for a used backhoe. Ask dealers as well as shop online to find the fair price for a used backhoe with at least the front end loader attachment. Decide how many hours you are comfortable with on the used backhoe. A machine with 2,000 hours is considerably cheaper than a new model and still has a lot of use left in it. Settle on what features you want such as automatic transmission or four-wheel drive. Once you know the general price range for a used backhoe with the specs you want, you can set your budget. Having a firm number in your head when you go shopping can help keep you from overspending.
Inspect the used backhoe you're thinking of purchasing. Walk around the machine. The backhoe should show signs that it has been well cared for. Do expect to see normal signs of wear and tear. Look for signs of leaks and rust especially on or near the motor. A new paint job may be an attempt by the owner to cover up a potential problem. Check the fluid levels. Fluids such as oil should be clear.
Check the hydraulic and electrical systems thoroughly. Since the backhoe attachments operate from these systems, both the hydraulics and electrical must be fully operational. Check the hydraulic hoses and connectors for signs of leakage. The battery should not show any signs of corrosion either on the battery or its connectors.
Run the backhoe's engine. If you don't have the skills to detect problems, consider taking a heavy-equipment mechanic with you when you shop for a used backhoe. They can often hear or see potential engine problems.
Operate the backhoe attachments. While it may not be possible for you to actually dig a trench, you should be able to determine that the linkages all work as they should on the backhoe. The front end loader should raise and lower as well as dump. Other attachments should operate properly.