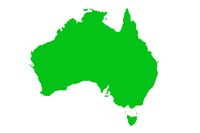 You can travel by train between Melbourne and Sydney, Australia's two biggest cities, on the State-operated CountryLink long distance train. This 11-hour journey operates twice daily from each end, and is available as a day or night service. The trains are modern and fully equipped with air conditioning and sleeping compartments, although the quality of the line makes the 550-mile journey slower than average in places. The route between the two cities includes many sites of natural beauty such as parks, beaches and wildlife habitats.
Taking The Train
Choose which service to take. Both the night train and day train take about 11 hours. Economy and first class tickets are available for the day service – the first class seats recline more and have extra leg room. Converted sleeping berths known as daysitter seats which offer extra space are also available on the day service. On the night service, sleeping berths are available for an extra fee for first class passengers only.

Book your ticket. Tickets for the Melbourne-Sydney service are available from operator CountryLink in a variety of ways. You can book online, telephone their reservation center on 13 22 32 (within Australia) or visit one of the company's travel centers to book in person. The travel centers are available in six Australian states and 16 international locations including the US and Canada.

Get to the station. Trains depart from Melbourne's historic Southern Cross Station and arrive at Sydney's Central Station at Haymarket. You are permitted to bring two pieces of luggage as well as a piece of hand luggage onto the train.

Consider the overnight train. The daily night train service between the two cities includes sleeping accommodation. The two-bed berths include bed linen, towels and toiletries. Shared toilet and shower facilities are available between compartments. A complimentary breakfast is also included. Berths must be booked in advance by telephone or in person only.

Arrange your meals for the 11-hour journey. You can buy hot and cold meals on the train's buffet car, where cash and credit cards are accepted. You can also bring your own food, although staff cannot heat meals. Alcoholic beverages are available noon to 11 p.m. to passengers older than 18. Alcohol can only be consumed in the buffet car, but you are free to eat at your seat.

Be aware of the rules when traveling with your children. Infants younger than 4 are allowed to travel free of charge provided they do not occupy an extra seat. You can bring a stroller or pram once the brakes are applied, and each train is equipped with a fold-down table for baby changing. You must buy a separate ticket for each child age 4 or older. Children younger than 12 are not allowed to travel alone, and those older than 12 traveling alone are advised to notify an attendant on board. Booking by telephone is recommended to ensure your whole family is seated together.

Prepare for your arrival at Sydney Central Station. This railway station is the primary hub for rail, light rail and bus routes in Australia's biggest city, so you are sure to be able to make an easy connection to your final destination.