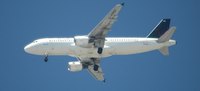 Flight delays, country restrictions, baggage limitations and security alerts are constantly changing. For example, starting in 2006, the 3-1-1 rule for carry-on bags became a standard for all air travelers. Plus, with the growing popularity of mobile devices, video recorders, laptops and cameras, the U.S. Transportation Security Administration set regulations on the lithium batteries you can keep in carry-ons. Often, new air travel regulations arise unexpectedly, and if you're not prepared, they can start your vacation on a bad note. By being an educated traveler, you can eliminate any bad surprises that may occur between airline check-in and arriving at your destination.
Things You'll Need
Web browser
Internet connection
Read up on your protected rights as an airline passenger on the Department of Transportation website as soon as you book your flight. Click on the "Citizen Services" section and select the "Aviation" link to find the information.

Read the latest news on baggage rules and passenger security measures by visiting the U.S. TSA and FAA home pages. Prepare by reviewing current information on the 3-1-1 rule for packing liquids, security warnings, National Weather Service alerts, prohibited items and security wait times.

Check updated flight arrival and departure times by visiting your airline's home page or by calling the customer service hotline two or three days before you leave.

Familiarize yourself with your airline's restrictions on baggage size and weight, which are posted on their website, so you can avoid extra costs upon check-in.

Sign up for free cell phone alerts through your airline's website, so you can receive up-to-the-minute flight information up until you board the plane for your trip.