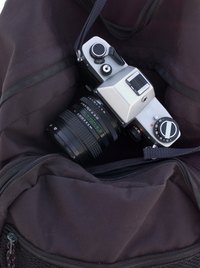 Many accomplished photographers would like to turn their hobby into a business, and there are many ways for photographers to make money with their work. From photographing corporate events to selling stock photos online, there are many excellent opportunities for experienced photographers to make some extra money, or even quit your day job.
Things You'll Need
Business cards
Photographic portfolio
Create a portfolio of your best work. Purchase a quality photo album and display your best portraits, corporate photos and other works. It is important for all professional photographers to have a good portfolio of past work. If you are just getting started, you can use your personal pictures as part of the portfolio. Just make sure those photos show you and your work in a good light. The wide availability of professional quality digital cameras makes it relatively easy to build a strong portfolio of pictures in a short period of time. After you have built your portfolio, be sure to take it with you as you visit companies in your area and network at corporate events.
Design business cards and hand them out to friends, colleagues and associates. Networking is important for any photography business, and you never know who may be looking for a photographer. If you have a website showing your work, be sure to put that website on your business cards. Including a sample photograph on the card itself is also a good way to showcase your talents. Be sure that your business card includes complete contact information, including your email address and phone number.
Visit businesses in your local area and introduce yourself as a corporate photographer. Try to get past the gatekeeper, receptionist or administrative assistant and speak to the people in a position to make the final decision. If the decision makers are not available, ask for their names and follow up with a written letter requesting a meeting.
Network at corporate events and business trade shows. These events give you an opportunity to showcase your work and show off your talents. Be sure to display framed examples of your best work in your booth, and have plenty of business cards to hand out.
Consider selling stock photos online as a way to supplement your business photography income. Stock photo sites allow experienced photographers to post their best work online. When companies download those photographs the photographers are paid for that use. Many businesses use stock photography sites to get images for corporate brochures, annual reports and advertising campaigns. Some good stock photo sites to look at include iStockPhoto, Shutterstock and Jupiter Images.