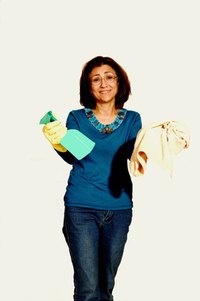 Paying for housecleaning used to be something that only high-incomes families could afford, but with more members of the household holding down jobs, many middle-income families can afford it as well. Housecleaning is a business that is thriving and in high demand. It sometimes is backbreaking work, but that is where your control and the things you are willing to do come into play. Often, you are able to clean when the owners are not at home, making your job easier because there will be no disturbances or distractions.
Write out a neat list for your clients of all of the things that you will do for them. Include specifics on cleaning bathrooms, bedrooms, family and dining rooms. Make notes of the things you will not be able to help with like laundry, garage or patio cleaning. Also, if you have products that you prefer cleaning with, make a note of that. Most of the time, the owners will provide you with cleaning supplies.
Call the competition, and find out what it charges for certain tasks. Make your prices slightly less to be competitive and to give the homeowners more reason to hire you.
Invest in some advertising tools such as business cards, fliers and ads in local newspapers. Pass out business cards to people you meet at community functions or in everyday locations such as supermarkets. Leave the fliers around businesses that have a steady stream of the demographic you're looking for, or leave them on the doors of neighborhood homes.
Name your business something catchy and unforgettable. This will ensure that people remember you when they think of housecleaning.
Research the local and governmental laws to make sure you don't need any licensing or permits to run your business.