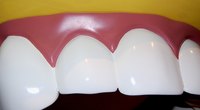 A smile brightens your face, makes you feel better on the inside and welcomes those you meet. Smiling can be embarrassing if you've just had your braces removed, only to discover you have badly stained teeth where the braces were. Many commercial products are on the market for teeth stains as well as treatments at dental offices. You can use your own home remedies to tackle stains from braces first, using supplies found in most homes and holistic health stores.
Things You'll Need
Baking soda
3 percent hydrogen peroxide
Measuring spoons
Bowl
Toothbrush
Clove oil
Mix 1/2 tsp. of baking soda and 1/4 tsp. of peroxide in a bowl to form a paste. If the paste is too dry, add a couple more drops of peroxide.

Apply the peroxide and baking soda paste to your teeth using a clean fingertip. Allow the paste to sit on your teeth for 15 minutes. The paste will stay there as long as you don't talk, eat, drink or swallow.

Rinse the baking soda and peroxide paste off your teeth using your toothbrush and plain water.

Put a drop of clove oil on your toothbrush for persistent stains. Brush as normal. Clove oil, a natural tooth whitener, can be used each time you brush, alone or mixed with your toothpaste.