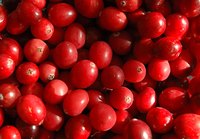 Every day our bodies are exposed to contaminants like heavy metals, pesticides and herbicides. Our lymphatic, urinary, respiratory and gastrointestinal systems process and eliminate these toxins, but can become overloaded and work less efficiently. Detox cleanses restore our ability to fight disease and expel toxins. Cranberry juice, high in antioxidants, vitamin C and fiber, is often used in detox cleanses because it cleanses the lymphatic system and flushes the kidneys. Dr. Ann Louise Gittleman, a holistic nutritionist, says the acids in cranberry juice help eliminate fat. She suggests drinking diluted cranberry juice to lose weight, increase energy, and reduce the effects of aging.
Things You'll Need
2 tbsp. plain, unsweetened cranberry juice
1 cup spring water
1 tsp. green powder, wheat grass powder, or Spirulina (available at health food stores)
Cranberry Juice Elixir
Pour cranberry juice, green powder and eight ounces of spring water into a clear glass. Use filtered water if you don't have spring water.

Stir with a spoon to mix thoroughly.
Drink at least one glass of diluted cranberry juice per day. This recipe makes one serving.