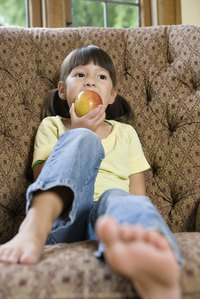 Getting more fiber in your diet offers a number of health benefits, from alleviating constipation to lowering cholesterol. Including a variety of fiber-rich foods helps ensure that you get a healthy mix of both soluble and insoluble fiber and reap all of the benefits.
Soluble Vs. Insoluble
Fiber is a carbohydrate that the enzymes in your body cannot break down. It is made of two distinct types: soluble and insoluble.
In your digestive tract, soluble fiber absorbs water, which adds bulk to stool and slows down digestion. It also binds with cholesterol and eliminates it in your stool.
Insoluble fiber remains unchanged throughout digestion and helps increase the time it takes for food to move through your digestive tract.
Daily Needs
On average, Americans get about 15 grams of fiber a day, according to the University of California-San Francisco Medical Center, but need 25 grams to 30 grams a day for good health.
Most foods contain a mix of soluble and insoluble fiber, but UCSF offers specific recommendations for how much of each type you should get to promote heart health: Aim for 6 grams to 8 grams of soluble fiber a day, which means the rest should be insoluble, or about 19 grams to 22 grams of insoluble fiber a day.
Food Sources
Oats, barley and legumes, including beans, peas and lentils, are rich in soluble fiber. Certain fruits and vegetables can also help you up your intake, including apples, oranges, grapefruit, eggplant and okra.
Whole-grain products, such as whole-wheat bread and pasta, and other grains such as buckwheat and brown rice are good sources of insoluble fiber. Fruits with edible seeds, such as strawberries, and skins, such as pears are also good sources of insoluble fiber, as are vegetables, oats, bran and stone-ground cornmeal.
Adding Fiber to Your Diet
To add more soluble fiber to your diet, eat oatmeal a few times a week and make apples and oranges your go-to snack choice. Adding beans to soups, salads and grain dishes also helps increase soluble fiber intake.
Switching your white flour products, such as bread and pasta, with whole-wheat varieties can help boost insoluble fiber intake. Also, fill half of your plate at lunch and dinner with fruits and vegetables.