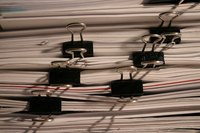 Carbon paper is often used by business sales representatives to create a purchase order or invoice and make multiple copies at one time. When you print on carbon paper, the words you print appear not only on the top sheet of paper on which you are writing but also on each of the other sheets attached to the top sheet. You can print on carbon paper with a little concentration and firm writing.
Things You'll Need
Set the carbon paper on a clear desk or table. Do not set the carbon paper on another notebook or file, or what you are writing will also be printed on that paper. The carbon in the paper causes copies to automatically be made while you write.
Line up the pages on the carbon paper on which you want to copy. Your papers need to be lined up evenly for the best carbon copies to be created.
Press firmly on the page with your pen or pencil while printing on the carbon paper. It is the firmness of the indentations you make on the page that cause the carbon paper to make copies.
Fill out your document or complete your printing until you have written everything you need on the carbon paper. Pull apart the pages of your carbon paper and view your carbon copies.