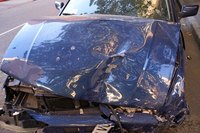 You pay insurance premiums in order to mitigate potential losses for events specified in the policy. If for some reason your insurance policy is canceled but you have a valid claim, you will need to process your claim as soon as possible. The longer you wait to file the claim, the less chance there is of it being accepted. In order to prevent the company from denying the claim, verify as much of the information that you can prior to making the claim.
Gather the information regarding your claim. This should include the date of loss, the reason for loss and cost of repairs or replacement. In addition to the information regarding the claim, obtain the exact date the policy was canceled.
Compare the date of loss to the date of policy cancellation. If the date of the loss is prior to the date of the cancellation, file a claim immediately.
Contact your insurance company's claims department. Be prepared to deal with someone telling you that your policy has been canceled and no claim can be made. Inform them that the claim is for a date prior to cancellation - request a supervisor if you are not getting the desired result.
Provide the insurance company with all pertinent information regarding the claim and any supporting documentation you may have to substantiate that the claim is for a date prior to the policy cancellation.
Work with the claim's adjuster to process your claim.