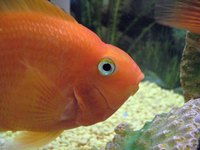 Calcium deposits on aquarium glass appear as little spots of white residue, typically along the top of the aquarium near the waterline. This residue is caused by hard water that's full of excess minerals. As the water evaporates in the tank, the minerals in the water, including calcium, adhere to the glass, creating those unattractive spots of reside. However, this buildup is relatively easy to remove.
Things You'll Need
Quarantine tank (recommended)
Paint scraper
Vinegar
Sponge
Transfer your fish to a quarantine tank during the cleaning. This is recommended, but not required if the spots you are cleaning are relatively small (about the size of a quarter). Cleaning the calcium spots may be stressful to the fish, and the vinegar that will be applied could cause a pH spike and harm them.
Add one measure of vinegar to two measures of water and mix them in the bowl. Base the amount of vinegar and water you use on the size of the spots.
Absorb some of the vinegar/water solution with the sponge.
Wipe down the aquarium's calcium deposits with the sponge. If it is a small deposit, it may come off right away. If it is a stubborn spot, however, use the paint scraper to remove any excess.
Dry the cleaned spot with a rag, and be sure to wipe away any vinegar.
Test the pH level of the water using the pH test kit. If the pH is desirable and was not affected by the vinegar, place your quarantined fish back into the tank.