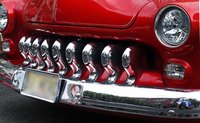 Owning your own car detailing business can be quite satisfying. You are able to work your own hours, doing something that you love to do. Once you are able to get a large and loyal customer base, detailing cars can bring in plenty of money. Many people charge around 100 to 150 dollars to detail a mid size sedan. Most of the income that you will receive is also profit since materials that are used in detailing cars is very cheap.
Things You'll Need
Garage
Car wash supplies
Newspaper ads
Fliers
Water source
Power source
Business cards
Purchase a variety of car wash materials. You will need car wash soap, car wax, waxing machine, chamois, towels, sponges, wheel cleaner spray, wheel brushes, a vacuum, microfiber towels, leather cleaning solution, chrome polish, and tire black spray. You will also need access to a hose and a garage.
Create a routine for washing cars that is efficient and easy to follow. Some people may prefer to clean the inside of the car first or the outside first. It is personal preference and it does not matter. Whichever way you decide to structure your routine, ensure that you clean all parts of the car including the door jambs, trunk and engine bay.
Create a price schedule for your customers. Create a price for small cars, mid-size cars, large cars, trucks, and SUVs. Also, try to provide customers with an estimated time of completion for each type of vehicle. Small two door cars can be finished within three to four hours while large SUVs may take between six and eight hours. Make sure that your pricing chart is appropriate for your community. It will be tough to garner business if your prices are high in a low income neighborhood.
Advertise your car washing business in your community. Purchase newspaper ads and place fliers around town. Consider advertising a special introductory price. This may help you create a customer base while still earning you a good amount of money. Also, create business cards which you can distribute to neighbors and friends. This will help your business get noticed.