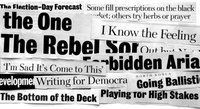 Online news articles are different from print news articles in that online content is indexed by Internet search engines. This means that whatever you publish publicly online can be accessed by anyone with an Internet connection, allowing for wider readership than print. However, it is important to keep in mind with the increased breadth of your audience for an online news article comes greater competition among other online news sources.
Things You'll Need
Article topic or subject
Word processor or text editor
Publishing access to a website or blog
Instructions
Compile a list of keywords that are related to your article subject. Consider words that you will both use in the article and words that you think others will use to search for information about the topic.
Research your article topic by browsing existing related articles, visiting related websites and conducting personal interviews via telephone, e-mail or in person. Cite your research within the article to corroborate your facts, using "said" or "says" for human sources and "as indicated by" or "according to" for institution or group sources.
Write a descriptive headline no more than 80 characters long. Include as many keywords as possible into the headline while remaining informative and concise. The best headlines provide a general overview of the article's scope and entice the audience to read the rest of the article.
Compose a catchy attention-getter by selecting the juiciest tidbit of your story and putting it first. Craft this opening sentence with the intention of grabbing your readers' attention and making them want to learn more about the subject.
Write the rest of the opening paragraph, using the attention-getter to segue into your thesis, argument or main point. This sentence should answer the question: "What is this article about?" Begin this sentence with a concrete noun or action verb, and avoid subjunctive clauses here. The following sentences should support your main sentence and provide an overview of the points that will be discussed in the following paragraphs.
Describe in greater detail each of your main points, as outlined in the introduction, in an accompanying body paragraph. Use your research for any facts, statistics or claims you make. Keep in mind that the overall word count of your article should not exceed 500 words, unless you are composing an in-depth piece.
Write the closing paragraph similarly to the opening paragraph, but in reverse order. Recap in greater depth the points you discussed, restate the main point and finally return to your attention-getter, taking it one step further to give a conclusive tone to the final sentence.
Include a call to action or links at the end of the article if you wish your audience to do something based on what they have read. If the article if persuasive, include information on how the audience can act on what they've learned. If the article is informative, provide a resource for the audience to learn more about the subject.
Add a boiler plate (an explanatory brief paragraph) about your organization or affiliation, if applicable. The boiler plate is not included in your overall word count and should span about 50 to 100 words. This is a good opportunity to include links to the sponsoring entity.
Publish your article to your website or blog. Get the word out by providing a permanent link to your article via e-mail, social networking sites and asking other webmasters to link to it from their sites.
Optional: Upload your article to free article databases. If you're not already a contributing writer for sites such as eHow, you can upload your articles for free to help increase web traffic to your story. Not all article databases allow you to include links, but some will allow you to include target keywords to further optimize searchability.