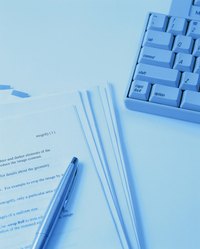 Brochures are one of the most commonly used promotional tools. They can be used to advertise everything, from a small baking business to a rock club to a multi-million dollar company. A brochure will often be the first glimpse somebody gets of your service, product or business. You want it to be a good first impression, so make sure your brochure's design is creative, reader-friendly and attractive.
KISS. Keep it simple, silly. Don't go overboard and clutter your brochure with information that isn't relevant to what you're trying to do. Decide what message you want to convey and stick with it. Make a list of the important information you want to put in the brochure and stick to that.
Use white space. Negative space helps create a spacial relationship between the elements of a brochure and can even help to highlight certain aspects of the design. White space also helps with readability and helps the brochure to look more "open" as opposed to crammed with overwhelming information. You want readers to feel like they breezed through the brochure while still picking up important information.
Use images or photos. The human eye is attracted to images on a page before words, so make sure the images are relevant and highlight the information, but don't clutter up the page.
Use color. Color may cause your brochure to be more expensive to print, but it will also help the page to pop and will be worth it in the long run.
Design with your audience in mind. Who do you want to see this brochure? Who are you trying to sell to? Make sure your brochure appeals to your target audience. If you're using your brochure to promote a nightclub, you won't want to use photos of businessmen in stuffy suits. Keep the audience in mind when choosing things that include color, font and images.
Proof. Make sure your brochure goes out into the world just how you want it--with no misspellings, oddly sized images or other faults.