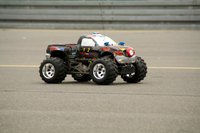 Remote-controlled cars (commonly known as radio-controlled, or RC, cars) are very popular with the hobbyist market. In contrast to toy radio-controlled cars, the hobbyist models feature more powerful engines, faster speeds, and tunable suspensions. These vehicles are often powered by rechargeable batteries that limit their run time.
Nitro gas is another popular RC vehicle fuel. Nitro gas is made from a combination of nitromethane, methanol, and oil. Other substances are added to reduce engine corrosion.
Things You'll Need
Business license
Sales tax number
Radio-controlled vehicle order details
Display fixtures and signage
Matching staff attire
Grand Opening discount information
Raffle forms
Racing flags and banners
Refreshments
"Show and tell" prizes
Ad rates and information for sports page ads
Select your business structure. Meet with a Certified Public Accountant experienced with specialty businesses. Locate a commercial insurance agent with similar background, along with liability expertise. Obtain a business license at your city or county clerk's office. Finally, contact your state's Department of Revenue to obtain a sales tax number (See Resources).
Decide on your location. Select a site on a main road, with at least two entry and exit driveways and sufficient parking. If possible, choose a location near a sports facility or ball field. Install front display windows to showcase some of your flashiest new vehicles.
Examine your competition. Radio-controlled vehicles are available at several retail outlets: radio-controlled vehicle stores; general hobby shops; big box stores with toy departments; and online retail websites (See Resources).
Since RC vehicle stores and websites have a specialized focus, these retailers are likely to have the best product selection. Expanded product lines may include different types of engines or trim packages, more sophisticated control systems or vehicle accessories.
Place your first vehicle orders. Select a good cross section of RC cars and trucks. For example, onroad cars and trucks are streamlined and may travel at 70 miles per hour or more. In contrast, off-road vehicles are more heavily built. These vehicles can withstand the bumps and rough rides of dirt roads and rock piles.
Both types of RC vehicles come in ready-to-run (finished) versions, as well as kit versions. Finally, choose vehicles in different price ranges to accommodate your customers.
Display your new radio-controlled vehicles. Create an interior showroom that's all about RC vehicles. Position cars and trucks on upper shelves for maximum visibility. Display add-on accessories adjacent to the vehicles. For those who enjoy building their vehicles, prominently feature a selection of car and truck kits.
Hire some radio-controlled car fans. RC fever is infectious, and the right staff can easily communicate it to customers. Hire people who are active in the sport and knowledgeable about radio-controlled vehicles and their operation. Provide staff with professional, matching attire, and conduct some interactive training featuring other staff as the "customers."
Hold a Grand Opening RC Car Rally. Create a one-day event that RC car enthusiasts don't want to miss. Display the newest cars and trucks, and offer Grand Opening discounts throughout the store. Raffle off a new RC car, and use the entry forms to begin a mailing list. Deck out your facility with racing flags and banners, and provide refreshments and live music.
Encourage customers to bring their own RC vehicles for a show-and-tell session. Offer prizes for the oldest vehicle, and also for the most tricked out model. Advertise the event on RC club websites (See Resources). Finally, reach potential customers with ads in the sports pages of local newspapers.