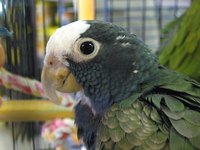 Owning a parrot often means a significant financial investment. To save some money, owners can take advantage of do-it-yourself cage kits. Although commercially fabricated cages are available, they are often costly and may not suit the needs of every parrot or owner. By making and selling parrot cage kits, you can earn extra income and also get satisfaction from providing owners with safe, affordable housing for their birds.
Things You'll Need
Kit building materials
Business licenses (if necessary for your location)
Business letterhead
Telephone, fax or email for communications
Set up your business. Research local requirements for starting a small business in your area, and obtain necessary permits or licenses. Begin your cage kit selling venture as a professional business by using letterhead stationary and business cards. Create a business plan that's based on your goals.
Know your product. Familiarize yourself with the safety guidelines regarding products for large birds. When designing your kits, pay close attention to potential hazards such as paints or finishes that may be toxic to birds, the proper gauge of cage wire to use in order to avoid having a parrot hurt its beak or claws and the weight that perches need to be able to hold. Make sure that your cage kits are also labeled with human safety provisions if they contain small parts that could be ingested by children.
Design the basic cage kit. Remember that most of the people who order kits are not professional carpenters or handymen, so keep your kits and instructions as simple as possible. Figure the cost of each item that will be included in the kit, the cost of printing instructions and the cost of packaging and compare this total amount to the cost of a commercially made cage. Offer competitive pricing or superior quality to compete with commercially available models; consumers need a reason to justify spending extra money or effort, but are often willing to do so if they judge the end product to be worth the time and cost.
Finish your kit. Identify the strengths of your kit and create promotional materials that explain these benefits. Specify the recommended capacity and types of birds your cages will optimally hold. Emphasize the safety aspects of your cage kit, since most parrots owners have a great deal of money invested in their birds and are sensitive to health and safety issues. Clarify whether your cage kits are intended for indoor, balcony, or outdoor use. Include contact information, so that potential customers may communicate with you if they have questions.
Market your kit. Get your company name and promotional materials in places where parrot owners are likely to be. Consider donating a few cage kits to your local animal shelter and alert the local media to the story—free publicity is a wonderful thing for a new businesses. Place flyers on bulletin boards at local pet stores. Connect with parrot owners online through blogs and social networking. Focus on marketing to larger audiences by attending pet trade shows in your region.
Process orders. Have a system in place to handle, process and ship cage kit orders. Calculate shipping rates for various carriers and allow your customers to select their preferred method for shipping. Keep inventory evenly matched with demand, and pay close attention to seasonal variations in ordering rates. Keep track of the volume of parrot cage kits you sell and determine whether you can increase earnings by purchasing your construction materials in bulk at a discount.