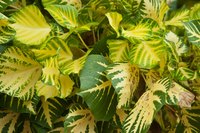 Plants can liven up a room and provide a comfortable, homey atmosphere to an otherwise cold and sterile office environment. They also improve indoor air quality at home or at work, and can help to improve mood. Homeowners and business owners who lack the time or skill to care for their plants often turn to the services of a plant care provider. A plant-care business can be a successful business that is easy to run and offers low overhead, flexibility and autonomy.
Things You'll Need
Reliable transportation
Record-keeping system
Watering containers
Plant reference books
Contact the local chamber of commerce or small business administration to determine how the plant care business should be run from a legal perspective. Depending on whether the business is to operate with employees or not, different requirements may need to be filed as a sole proprietorship or a corporation and whether or not a business license is required. Business licenses and state fees need to be updated and maintained annually or semi-annually for the life of the business.

Maintain current knowledge of the plant-care industry. A manager of a plant care business will need to be able to quickly identify many types of plants and any diseases or conditions affecting them in order to properly care for and treat existing plants as well as make recommendations for new exterior or interior-scape plantings. Customers will want someone highly knowledgeable about plants.

Keep detailed records of all accounts and activities. Set up each account with a specific contract stating what services are provided, such as watering, pruning and plant feeding. Note how often each account is to be serviced. Some may need weekly visits, and some may only need monthly maintenance. Be sure the fees and expected dates for payments are carefully outlined and agreed to with a signed contract. Some plant care businesses charge a flat fee per visit, whereas others are hired on a monthly retainer. Maintain a record of each visit and the plant maintenance completed for every account. Make note of daily mileage and expenses for supplies.

Establish a plant-care schedule for every account and stick to it. Part of running a plant-care business is commitment and dependability. Plants need regular consistent care, and customers need to know they can depend on the company hired to provide that service. Make sure the schedule is agreeable to the client, and verify access to the building and is available at that time.

Hire additional help on an as-needed basis. A plant-care business can be started simply with little overhead. Anyone with plant knowledge, watering tools and reliable transportation can market plant-care services to homeowners or companies. Word of mouth, online advertising and telephone book advertising listings eventually bring in more accounts if desired. As new accounts are added, help can be hired to provide additional coverage and expand the business.