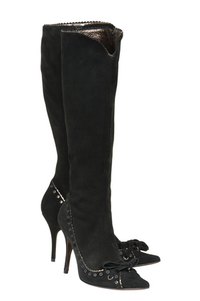 Removing salt from suede boots will prevent you having to buy a new pair of boots, so it will help you save money. It is also one way to incorporate green lifestyle choices because you will not be throwing those boots away. There are two methods for cleaning salt from suede boots that can be done with items that you have around your home.
Things You'll Need
White vinegar
Water
3 cloths
2 dry towels
Mild dish detergent
Fabric softener
Shoe brush
Clean spray bottle
1 piece of light sandpaper
White Vinegar
Mix a mixture of equal parts water and white vinegar.
Dip a cloth in the mixture and wipe the salt off your boots.
Wipe the area with a clean cloth dampened with water.
Wipe the boots with a dry towel. Allow them to dry away from radiators or any other heat sources.
Dish Detergent and a Shoe Brush
Brush your boots with a shoe brush to loosen the salt.
Mix 1 tsp. of mild dish detergent and 1 tsp. of fabric softener in 16 oz. of lukewarm water in a clean spray bottle.
Spray the mixture on the salt-damaged areas. Brush it in very lightly with the shoe brush.
Wipe your boots with a water-dampened cloth and allow them to dry.
Once dry, rub your suede boots with light sandpaper to bring back the texture.