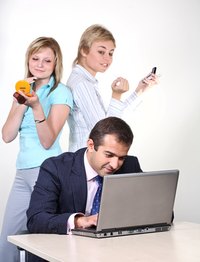 Changing your corporate culture takes more than simply generating a new employee handbook. A true corporate culture change means that management must address the culture from every angle and aspect of the business. From human resources, operations and marketing to sales, all areas must be examined and addressed. Changing how employees approach business involves months and years of intense training and mediation. The only way a culture change will be successful is if senior management is on board every step of the way and demonstrates the new culture direction in how they do business.
Scrutinize your original corporate intentions by evaluating the original business model or plan. Create a list of everything you continue to do from the plan and items that have changed since generating the model or plan.
Review and reflect on how your company has changed since developing the original business model and how it's impacted your original direction and plan.
Create a statement or paragraph about a specific corporate culture you'd like to cultivate. Include specifics such as improved employee communication, reduced micromanaging or increased sales efforts.
Identify areas of concern that need to be changed or addressed. Identify the specific reason and areas that prompted the culture change. Example areas include employee morale, procedural inaccuracies and improvement or development of sales culture.
Write down those areas of concern on the same list that includes your original business plan and model review.
Interview department heads and employees about their concerns and desires for the company. Get to the heart of the current corporate culture by asking your team for their opinion of what goes on at work.
Create a standard question and answer form to conduct personal, one-on-one interviews to address what employees like, dislike and believe works well at the company. Before executing the interview, lay ground rules such as no specific employee bashing, and ensure employee confidentiality. The only way you will obtain the truth is to reassure employees that their answers go no further than this conversation and their name will not be associated with any specific answers.
Review research to build a new business plan or model. Use your previous model, goals and employee interviews to develop a new business plan that focuses on the new corporate culture.
Include every aspect of the company, even if the culture change only impacts one portion. Create an action plan that lists how the change will occur, who will participate and what tools you will use to execute the change. For example, the action plan could include a time for department managers to hold individual employee conferences every week to broaden the manager-to-employee communication.
Meet with senior and department managers to enlist their help with program execution. This is a vital step because having management on board is the backbone to a successful culture change. In order to ensure that each manager understands every aspect of the impending culture change, hold group and individual training meetings prior to rollout. Generate a detailed outline handout based on the new business plan and discuss each point with managers.
Identify how the culture change will impact the managers' jobs and their employees. Explain why the company is changing the culture and the benefits the change will bring. For example, if the culture change focuses on employee morale, discuss how individual weekly employee meetings will improve relations by letting the employees voice their questions and concerns on a regular basis.
Role play with managers during the meetings to provide real-life examples of employee reactions and situations they may encounter during the culture change transition.
Conduct an all-employee business culture meeting to introduce and explain the new business plan. Hold the meeting in an open forum so employees feel free to ask questions.
Keep the initial meeting lighthearted so employees view the culture change in a positive light. One way to lighten the mood and introduce the new culture is to write and execute a skit with managers as the actors. The skit could portray an example of how the culture will change. For example, if you are transitioning to a more sales-based company, demonstrate the current environment and how employees make sales. Then role-play the future environment, introducing employees to the new way they will approach sales.
Conduct a general training and introduction meeting after the skit to provide employees with new expectations and direction ideas. Detail specific strategies and plans for the coming weeks and months. Explain how the culture change will impact employees' jobs and any new opportunities for advancement or communication. Furnish each employee with a handout or small booklet that describes the new direction.