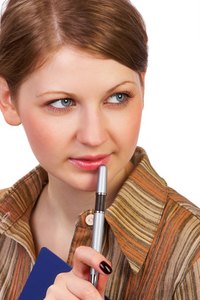 If you enjoy working with people and are interested in fashion and psychology, starting an image consulting business could be a great way to make a living. Image consultants are used by a wide variety of people in various industries. For example, politicians use image consultants to be more appealing to their constituents. Actors, musicians and other celebrities use image consultants to build their personal brand an increase their star power. Business often employ the services of an image consultant to give presentations and seminars to employees regarding appropriate work attire and how to interact with customers.
Things You'll Need
Plan and Start Your Image Consulting Business
Create a business plan for your consulting business. Just as a new home needs a blueprint before construction can begin, your new business needs a solid plan in place to guide your actions regarding goals that need to be accomplished and the means by which they will be completed. Although it is helpful, it is not necessary that you write out a formal business plan. However, you should spend a considerable amount of time considering the following: how much savings you can contribute to starting your consulting business, how much money you will need to get your business off the ground, who your target client will be, how much you will charge, and where your business will be located. You should also make goals for your consulting business such as the number of clients you would like to bring in by the end of your first year in business.
Create a budget for your consulting business. Even though this particular business has relatively little overhead, you should still create a budget to anticipate and control business expenditures. You will need office space, supplies and a phone line. You will also have transportation, advertising and marketing expenses. Deciding how much you should spend and sticking to a budget will help keep you from overspending and will increase your chances of success.
Research or attend classes on topics that will increase your expertise as an image consultant. It is not necessary that you acquire a degree or certificate to become an image consultant. However, you must acquire the knowledge necessary to provide quality advice to your clients on how they can improve their image. To accomplish this, you could attend an image consultant training course, network with other image consultants, or find a mentor who has had success in the field. You could take college courses in marketing, psychology, sociology, fashion merchandising or political campaigns. Additionally, you could visit your local library or bookstore and check out titles on "image building" and creating a "personal brand."
Set up your office. It is not necessary that you purchase or rent commercial office space for your consulting business. You could designate an area in your home as your "office." At a minimum, you will need a place to store client files and execute basic business administrative tasks such as scheduling and accounting. If you do not plan on renting or purchasing commercial space, you must come up with an appropriate place to meet with your clients.
Build your client base. When you created your business plan and budget, you should have allocated funds for advertising and marketing. Use your budgeted amount to create and execute an advertising plan. For example, you could have business cards printed, create and send brochures to local businesses or place an ad in a local newspaper. You should tailor your advertising plan to suit your targeted clientele.