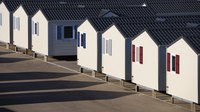 Financing an old mobile home can be similar to buying a used car. A bank or lending institution will assign a value to the home and grant you a loan with monthly payments. Terms, such as the interest rate and length of the loan, can vary widely depending on the dealer and the age of the home. Generally, the newer the home, the better the terms, according to bankrate.com.
Find the mobile home you want. If you are buying from a dealer, ask for advice in obtaining financing. The dealer likely will have have relationships with banks and other lenders who may be able to help.
Shop around for the best loan, even if your dealer offers to arrange financing. You may have to take out a out a personal loan for the purchase, according to bankrate.com. Bankrate.com says that, generally, old mobile homes are financed as personal property in much the same way that automobiles are financed. Typically a 10 percent down payment is required with the remainder financed over 10 to 15 years. Expect the interest rates to be similar to the rates offered on automobile and boat loans. That could mean interest rates starting at about five percent and possibly more than 18 percent, depending on your credit and other factors, such as the age of the home.
Ask about FHA financing. Mobile home loans backed by the Federal Housing Administration are sometimes easier to obtain because the FHA insures the lender against loss if you default on the loan. The FHA does not publish a list of FHA-approved lenders; you'll have to inquire about FHA financing as you shop around.
Apply for the loan through your dealer, bank, credit union or other institution. Make sure you have enough money to make the minimum required down payment and that you have enough income to qualify for the loan. For FHA financing, you must also agree to make the home your principal residence, and you must have a suitable site for the home. The home can be placed on a rental site in a mobile home park if the park and lease agreement meet FHA guidelines. The home can also be placed on a private site owned or leased by you.
Finish the application process, gain approval, and move into your home.