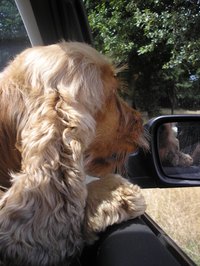 Car seat covers protect upholstery from dog hair and create a more comfortable traveling environment for your dog. Some models also prevent dogs from trying to get into the front seats. Depending on size and features, these car seat covers may cost $50 or more in stores. An easy and inexpensive alternative is to make the seat cover yourself, using a fitted bed sheet. You can choose a sheet color that matches or complements your upholstery, or choose a color that matches your dog's coat to minimize the visibility of shed hairs.
Things You'll Need
Measuring tape
Fitted sheet
Measure the back seat of your car to determine what size sheet you will need. Measure across the back seat to find the width. To find the length, measure from the top to the bottom of the back rest, from the base of the seat to the back of the front seats and from that point up to the top of the front seats' headrests. The sheet should cover the back and seat parts of the back seat and then slope up in a hammock shape to the top of the front seats to keep the dog securely in the back.
Select a fitted sheet. Use your measurements to choose the correct size. A twin sheet fits well in most small sedans. Approximate sizes for fitted sheets are 39 by 75 inches for twin, 54 by 75 for a full (also called double), 60 by 80 for queen and 78 by 80 for king. These are general width-by-length measurements only and do not include pocket depth for fitted sheets. Keep in mind that fitted sheets have elasticized corners, so if your seat measurements are slightly larger than a standard sheet size, you can size down.
Install the sheet in your backseat. If you have rear headrests, hook the corners of the sheet around the outer sides of both headrests. Secure with large safety pins. If your back seat opens for trunk access, pull it down and tuck two corners of the sheet around the seat back. Secure with safety pins if needed and put the seat back in place. Hook the other two corners of the sheet around the headrests of the front seat, securing with safety pins.