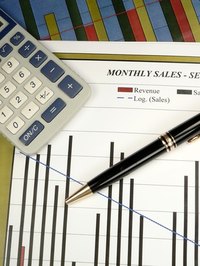 Whether your business is a sole proprietorship, partnership or a corporation, if you do not know how to manage your finances, it is destined for failure. Similarly, mismanagement of your personal funds can lead to bankruptcy. How you manage your business and personal finances can result in a positive or negative impact. To accomplish financial stability, you must know how to manage your funds.
Business
Open a business account. Find a good bank by getting references from other businesses that are similar in size and structure to yours. If you have limited funds, get a checking account that has no, or minimal, fees. Use the business account only for business purposes.
Find someone experienced in financial management. Ask this individual to become your board treasurer if your business is a corporation. The board treasurer is a member of the board. She manages the company's finances, provides the annual budget for the board's approval and develops financial policies and procedures.
Use an accountant. The accountant can help you to implement your bookkeeping system and create financial documents. Still, do not hand over all your financial duties to him. You should have a basic understanding of financial data and how related decisions will affect your company's finances.
Use financial management software. Software such as QuickBooks and Peachtree are designed to generate financial documents. These types of software are particularly useful for tax reporting and monitoring the company's revenue and expenses.
Stay on top of your finances. Have a budget that depicts estimated expenses and revenue for a specific time frame; categorize the amounts, such as bills, administrative costs and foreseeable projects. Create a cash flow statement showing the cash coming in and exiting the business. Generate a profit and loss statement that reflects your revenue and expenses. Create a chart of account, which lists all the different accounts in the general ledger.
Personal
Tally your living expenses. Figure your monthly expenses such as bills and household and personal items.
Open a personal bank account. You can have your own checking and savings account, plus an account to pay your bills.
Have a budget. Without one, it is difficult to gauge your spending habits. A budget lets you know what you can afford and when. It also cuts down on frivolous spending, which you might later regret.
Invest wisely. If you do not understand the financial market but want to invest in a retirement plan or other stocks and bonds, consult a financial advisor.