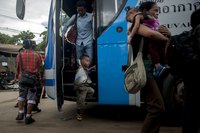 A vacation that begins with wild nights in Bangkok will find its balance in the serenity of neighboring Cambodia's temples and ruins of the Khmer empire. You can get there in anywhere from an hour by air to half a day by overland routes that each carry distinct risks and benefits. Check with the U.S. State Department before traveling for any alerts on specific routes, and save time at the border by using Cambodia's e-Visa program to apply and print your entry pass online.
Road Trip
You can drive from Bangkok, Thailand, to Phnom Penh, Cambodia, connecting to Asian Highway 1, in about 10 hours without stops. Because of the potential for banditry on Cambodia roads and the often treacherous drivers in both countries, though, you should road trip through this area only when the sun is up. If you need a place to stay overnight to break up the trip, you'll find hotel-and-casino combos catering to tourists at the Cambodian border city of Poipet or continue on to Siem Reap. If you plan to secure a visa at the border, make sure you have two extra passport photos handy and six months before your passport expires. Resist the offer of any third parties on the Thai side of the border to get your visa at a surcharge, and have the latest visa rates from the Cambodian government on hand so you don't get cheated by any border officials. Tourist visas are good for a month. Bear in mind that in Thailand you drive on the left-hand side of the road, and that switches to the right-hand side in Cambodia.
Bus Route
To deepen economic ties between the two countries and increase tourism opportunities, Thailand's state-owned Transport Company launched regular service from the Mo Chit Bus Terminal in Bangkok to Cambodia in 2013. The TCL buses take seven hours or more to get to Siem Reap, depending on how long it takes you and your fellow passengers to get through immigration officials at the Cambodian border. Pack some snacks for the trip as there are few opportunities for sustenance along the way. Have your onward plans ready for when you arrive in Siem Reap, whether it's a bus transfer to another town or a hotel stay and tour of Angkor Wat. The State Department notes that bus accidents are commonplace in Cambodia, with roads made riskier by "sporadic" road maintenance and flooding from summer through fall.
Train Travel
The State Department cautions that train lines in Thailand have been susceptible to accidents because of lax maintenance and aging rails. You can take a train from Hua Lamphong Train Station to Aranyaprathet on the Thai side of the border, but that will be the end of the line before the crossing into Cambodia. Get off the train and take a tuk-tuk -- a motorized rickshaw -- or motorbike to the border checkpoint. Process your entry into Cambodia and, once in the country, you'll have to rely on bus or taxi for the remainder of your journey. A shuttle bus can take you from the immigration office to the Poipet Tourist Passenger International Terminal.
Take to the Airways
A flight from Bangkok to Phnom Penh takes just about an hour from takeoff to touchdown. The Airport Rail Link in Bangkok conveniently links travelers to Suvarnabhumi Airport, a busy international hub. Bangkok Airways and Thai Airways International fly frequent direct routes to Cambodia's capital. Vietnam Airlines will take you to Ho Chi Minh City before doubling back to Phnom Penh. Bangkok Airways also flies direct to Siem Reap with a similarly short travel time of about an hour. From either of these hubs you can catch connector flights to smaller airports within Cambodia, including Sihanoukville on the coast.