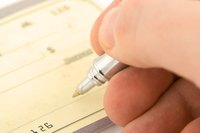 The Unclaimed Property Act dictates how the state of Georgia handles unclaimed property, which is either abandoned property or property the owner doesn't know exists. In most cases, unclaimed property is unclaimed funds. When the holder of the property is unable to find the owner, the Unclaimed Property Act states that the holder has to turn over the property to the state, which is done in Georgia using the Holder Reporting System (HRS) software to electronically prepare and file the report in the correct format.
Things You'll Need
Holder Reporting System (HRS) software
Property owner information (name, address, phone, SS#)
Type of unclaimed property (bank or investment account, insurance refund, among others)
Value of unclaimed property
Install the Software
Install the HRS software on your computer. To complete the unclaimed report for the state, you'll first need to install the free HRS software on your computer.
Complete the download information. When you click on the download button for the single-user software, an online form to complete the download appears. Complete all of the required fields (highlighted in red). After completing the required information fields with your name, company name, address and email address, click the "Accept" button.
Save the file. The download of the software automatically begins. In the pop-up box that appears, click the "Save" button to save the software to your computer. You may want to save the software to your desktop so that it's easy to find when you want to use it.
Click through the software wizard. Follow the instructions of the software wizard (the first time you use the software and to complete the installation). This includes adding your information as the holder of the unclaimed property.
Create a Holder Report for Georgia
Start the report. Click on the "Data Input" button on the left side of the HRS software screen. Then click on the "Data Sets" option that appears, which requires you to add the year you're reporting the unclaimed property and the state you're preparing the report to submit. Enter the year and choose "GA." Click "Save."
Input the property information. Click the "Properties" button on the left side of the screen and follow the prompts to enter the information on the unclaimed property. Since you chose the state of Georgia in the previous step, the fields in the software are automatically changed to meet the Georgia reporting standards.
Output data. Click the "Data Output" button on the left side of the screen when you have saved the property owner information. Then click "Holder Reports."
Generate the report. The property owner information you just submitted is highlighted on the right side of the software screen. Click the "Generate Output" button at the bottom of the screen to submit the report of unclaimed funds to the Georgia Department of Revenue.