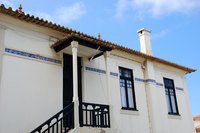 Using a house as collateral for a business loan can allow the owner of a company to provide a form of security to the lender financing a loan transaction. Think over any financial decision before you make your final choice because you could lose your home if your loan payments are not made. Choose your lender based on what you feel is in your best interests, and do not feel compelled to go with the first lender who offers you a good deal on a loan. Below are a number of steps that will assist you in using your house as collateral on a business loan.
Compare the services of various lending institutions. Use your telephone book to obtain the contact information for the lenders. Find the phone numbers of small community banks, credit unions and local mortgage brokers. Phone each lending entity and ask them if they provide business loans using a house as collateral.
Go over all of the terms of the loan with your lender. Do not sign any loan paperwork until you fully understand what is being stated. Be sure that you completely understand the amount of the mortgage payment you will make each month, the length of time it will take you to pay the entire loan balance and any fees that you will be charged.
Prepare for the loan closing. Look over all of the terms of the loan. Ensure that each term on the loan is the same as it was when you first viewed the paperwork. Be ready to postpone the closing if the terms of the loan have been altered. Retain a copy of the loan documents for your records.