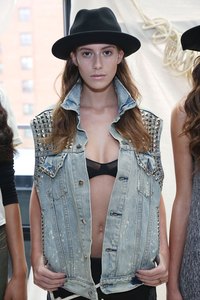 Punk rockers and hair-band rock stars made spiked, metal-studded jackets, shoes and belts famous in the '70s and '80s. The inspiration has remained a classic rock fashion symbol. While there have been endless commercials for tween bedazzlers, adult DIYers don't need any cheaply made crafting tool to get that tough accent. Invest in some quality spike studs and a sturdy denim vest to design an edgy fashion accessory.
Things You'll Need
Measuring tape
Fabric marker
Seam ripper
Clothing studs
Lay the denim vest on a flat surface. Envision the design you want to apply to the vest. Classic places to apply studs include a line of studs above the pockets, along the front or bottom seams, or along the collar or lapel.
Mark the denim where you want your spikes to sit using a fabric marker. If you're adding a line of studs, use a measuring tape to keep the line even and straight. Be sure to mark where the center of the spike stud will sit and leave enough room on the edge of the fabric so that the stud will sit securely on the vest. Also leave enough room between the spikes so that they can sit smoothly next to each other.
Poke a hole on each marked stud site with the tip of a seam ripper. Keep the hole small so that the spike will sit snuggly in the fabric. Keep creating small holes on all of the marks you made for the pattern.
Stick the spike stud through the first hole. Screw on the back of the stud and secure firmly to ensure the spike stays in place. Repeat this application process until you have all of the studs you desire.