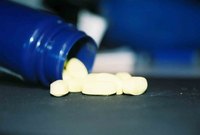 Many people find the costs of their prescriptions at their local pharmacy to be unaffordable, according to healthyplace.com. They may also find it difficult to go to a pharmacy every time they need a prescription refilled. If either of these situations applies to you, you may want to try purchasing your prescription online.
Things You'll Need
Computer
Internet Connection
Prescription
Find a Pharmacy
Locate a reputable online pharmacy.
Determine where the pharmacy is physically located and if they provide readily available contact information to their clients. This is important because you want to make sure that the pharmacy actually exists and is legitimate. If they do not provide you with this information, find a different pharmacy.
Search the Internet, usually by typing in the pharmacy's name and the word "complaints," to see if there are any legitimate customer complaints about the pharmacy before you deal with them.
Medication
Look for the type and dosage of medication that you need on the pharmacy site. This will be located on your prescription. For the majority of online pharmacies, you will be required to supply a legitimate prescription in order to place your order.
Check to see what the price of the medication is, what form is it delivered to you in, (pill or liquid) and how much medication will be dispensed to you.
Look around the Internet for other online pharmacies and check their prices, using the same quantity and dosage. Just like shopping in a regular store, you will want to make sure that you are getting the best deal online.
Order
Place your order. Most online pharmacies will require that you fill out your patient and shipping information, as well as send them a copy of your prescription.
Send the prescription by FAX and the pharmacy will then contact your physician to verify that it is accurate.
Before you pay, make sure that you know how much the pharmacy will charge you for shipping. Many online businesses charge tremendous amounts for shipping and the shipping costs can increase the total amount for your order significantly. So check the shipping costs before you place the order.
Pay for your order with your credit or debit card.
Get an online receipt for your order. You should be presented with a payment screen from the pharmacy once you have paid and you can copy this payment record to your desktop. The pharmacy should also send you a receipt to your e-mail address so that you have a receipt for your records.