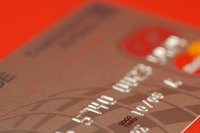 There are times when a credit card is needed even though a person might have a pending bankruptcy. A common reason a credit card is needed during this time is to rent a car. Some utility and cable providers might also require a credit card as opposed to a debit or prepaid card. Most car rental companies will not accept debit and prepaid cards and those that do require that a charge of $250 to $500 be assessed against the card during the period of the rental, and even after the return of the rental car, it may take up to a week before the money is restored to the card's available credit.
Decide on which bank or credit union offers the best terms and benefits for a secured credit card. A secured credit card requires you to deposit funds into a savings account that acts as security for the credit card issued to you. The credit limit of the card is the amount of your savings deposit which needs to be a minimum of $300 and a maximum of $5,000.
Make sure that the bank or credit union you choose states clearly that it reports to all three credit bureaus as this will help you to re-establish credit should you make your payments on time.
Complete the required application. Usually this can be done online.
Send a cashier's check or money order for your initial deposit as this will expedite the issuance of the card. Otherwise, the bank or credit union will wait for your funds to clear before issuing you a credit card.
Wait for the arrival of your card in two to six weeks and then use your card in a prudent manner. Try to avoid using more than 50 percent of your credit limit at any given time and always pay more than the minimum amount due each month.