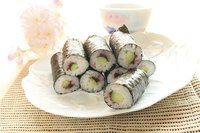 Made from green Prunus mume plums that are pickled in a solution of sea salt, red shiso leaves and shocu alcohol, then dried and aged, umeboshi plums are used in traditional Japanese medicine as a treatment for digestive disorders, as a hangover remedy and as a cure for conditions ranging from fatigue to food poisoning. While some studies, including a "British Journal of Nutrition" study published in 2011, indicate that a diet including dried plums like umeboshi may help prevent bone loss, more research on the plums' direct health benefits is needed. You can, however, include them in your diet in a way that lowers your intake of fat, sugar and sodium, reducing your risk of many chronic medical conditions.
As a Substitute for Saltier Condiments
According to the Centers for Disease Control and Prevention, approximately 90 percent of Americans consume too much sodium. While a healthy adult should have no more than 2,300 milligrams of sodium daily, most have an average of 3,300 milligrams. Although umeboshi plums contain 520 milligrams of sodium per teaspoon, their strong flavor makes a small amount go a long way. By contrast, a salty condiment like tamari soy sauce has over 1,000 milligrams of sodium in every tablespoon. Instead of soy sauce, use minced umeboshi to garnish plain rice or roll it in sushi and skip the dipping sauce for less sodium per serving.
Instead of Butter or Oil for Flavoring
Eden Organic, a commercial retailer of umeboshi plums, suggests rubbing cooked corn on the cob with a small piece of dried plum instead of flavoring the corn with butter. While butter contains over 11 grams of fat, 7 grams of saturated fat and 31 milligrams of cholesterol per tablespoon, umeboshi plums contain none. Chopped umeboshi can be tossed or stir-fried with any steamed, sauteed or roasted vegetable instead of butter or oil to add flavor with no fat. Good choices include cruciferous vegetables like kale, cauliflower or broccoli.
To Quell Sugar Cravings
If you're having trouble avoiding the temptation of sugary snacks like cookies, candy, chocolate or cake, try eating an umeboshi plum, says "Shape" writer Jennipher Walters. "Healing With Whole Foods" author Paul Pitchford agrees, saying foods that are strongly flavored and sour, such as umeboshi plums, can decrease the craving for sugar. Unlike high-sugar treats, each serving of the plums is calorie-free and contains no sugar. Have the plums on hand in your pantry and keep a stash in your bag or drawer at work so they're readily available when cravings strike.
To Flavor Tea
Stirring whole milk or cream into your cup of tea each day can, over time, contribute to an excess intake of fat and saturated fat. Add a teaspoon or so of sugar, and you're increasing your consumption of empty calories even more. Instead of trying to do without, experiment with a typical Japanese way of drinking tea -- mix some shredded umeboshi plums into the prepared tea and season it with fresh ginger juice, if desired. The result will be a flavorful, mildly salty tea with no calories or fat.