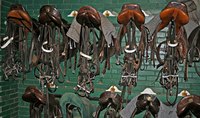 English saddles are built a bit differently than Western-style saddles. They are typically smaller, and as such put a little more pressure on the spine of the horse. To alleviate some of this pressure, English saddles have two padded areas that run lengthwise on either side of where the horse's spine is located. This moves the saddle off the spine and distributes the pressure to either side. The space in between the pads is the gullet.
Flip the saddle upside down.
Put a measuring tape in between the pads, or panels, underneath the saddle. This small area is the gullet.
Look at the measuring tape to determine the width.
Look at the gullet to see if it tapers in toward the back of the saddle. If it does, measure a second point at the back. This measurement should be paid close attention. If the pads are too close to the spine it can create painful pressure on the spine of the horse. Make sure that you can still get 3 or 4 fingers in the gullet at the back end.