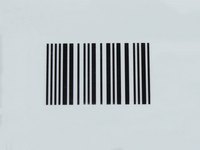 Reading coupon bar codes can be done by those who understand the process of reading a set of numbers that appear on all coupons and are standard in the coupon industry. Shoppers who use coupons on a regular basis may save time and money by learning the process of reading coupon bar codes in frequent use at many stores.
Know the number which the majority of coupon makers use on their coupons in the first position. The numbers 5 and 9 are most commonly used as the first number on coupon bar codes and represent various factors. A coupon that starts with 5 may be doubled, but those which start with 9 cannot.
Understand the meaning of the manufacturer's code. Each manufacturer is identified by the next five numbers that appear after the first number on a bar code. The manufacturer's code distinguishes one manufacturer from another.
Identify the next three numbers on the bar code, known as the family code. Because manufacturers often sell many different products, they break these products into separate families for organizational purposes.
Read the last two numbers on the coupon bar code, called the value code. Seeing the value code relates to the value or price contained on the coupon.