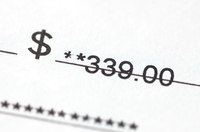 Sometimes you need your bank account number, but you don't have a handy checking account statement from your bank. For some purposes you cannot use the number on a debit card, which is different. For example, you might need the information so your employer can start paying you via direct deposit to your checking account. Fortunately, it's a simple matter to determine the bank account number from a check. You can find the bank's routing number as well if you need it.
Look at one of the checks (it can be a canceled or a blank check). At the lower left you will see a long string of numbers. Write down the first 9 digits (starting from the far left) on a piece of paper. This is the bank routing number. Routing numbers identify the bank where the account is located, so the check can be sent to the right place during processing.
Write the remaining digits on a separate line on the paper. This is your bank account number plus the number of the check you are looking at.
Look at the upper right corner of the check to find the check number. It will match the last few digits on the right of the combined bank account number/check number (from Step 2). Cross these digits off on the piece of paper. What remains is the bank account number.