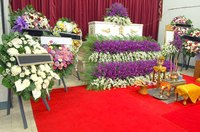 There are many steps involved in opening a store, and a casket store is no different. Thoroughly research the market to determine if the community can support a casket store. For instance, assess whether you can establish a competitive advantage to differentiate your store from existing ones. You might provide various casket styles or offer a few caskets under $999. Also highlight your willingness to accommodate clients by working directly with their funeral directors.
Contact casket distributors as well as manufacturers to assess your inventory costs. For example, ask whether wood and metal casket costs are similar or whether you can buy directly from the manufacturer. There are various kinds of caskets such as maple, oak, steel, hardwood, bronze, and mahogany.
Determine how quickly both ordinary and custom caskets can be delivered. Customers might request special designs, modifications, or expedited service for larger people. Mention any store policies, such as no liability for delayed shipment due to inclement weather or acts of god.
Pick appropriate prices for your caskets. Evaluate your wholesale cost and add a reasonable mark-up so that you break even, which means that your revenue covers expenses. For instance, if a casket costs $650 wholesale, you initially might mark it up to $1,050 if it is needed within two days.
Select an adequate location. Consider renting or purchasing property near funeral homes or cemetery. If you plan on selling caskets online as well, invest in a sufficient space so that you can store and maintain inventory levels.
Advertise continuously using traditional and unconventional methods. You might place an advertisement near your local newspaper's obituary section. Also establish a simple website that potential clients can browse or submit order requests.