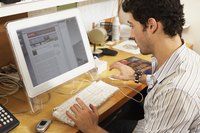 An incentivized freebie website, also known as an IFW, is a business model to consider if you're looking to start a home-based, low-investment business. The business model is unique: The IFW owner gets sponsors to pay it a percentage in exchange for signing up customers. Customers then obtain free, highly coveted prizes, such as a Nintendo Wii system or iPod, from the IFW by referring friends or signing up for other sponsors' offers. The customer then receives the prize once he has fulfilled the requirement for that particular prize. Start a freebie website by following a few relatively easy steps.
Things You'll Need
Domain name
Web host
Prizes
Affiliate provider
Liability insurance
Select a catchy, relevant and searchable name for your site, such as "Freeipods.com" and then verify that the domain name is available by visiting GoDaddy.com and checking availability. If available, purchase immediately, as domain names go quickly.
Sign up for a PayPal account at PayPal.com, if you do not already have one. Most online payments are made via PayPal.
Select a web host to host your site. Look for a web host with dedicated customer service, Google Adwords or Myspace advertising credits, ample bandwidth storage space, a business email address and free templates. Unless you are experienced in hypertext markup language and hypertext preprocessor, which is a type of script writing, consider purchasing a script, such as one offered from Myeasyscripts.com, to help you design an incentive website and to automate your site.
Join an affiliate program such as Commission Junction, Azoogle, clixGalore or Never Blue. Once accepted, browse the lists of advertisers to include on your site. Generally, you will need to be approved by each advertiser before you can put their ads on your site.
Develop an "About Us" page, a "Free Offers" page, a "Privacy" page, a "Terms and Conditions" page, a "Gifts" page and a "Log-in" Page, where customers must create a log-in in order to be able to sign up for offers. On your "About Me" or "Terms and Conditions" or "FAQ" page, detail the requirements for obtaining credits, the credit amounts required for each type of prize and when users can expect to receive their free prize. Consider consulting with an attorney or reviewing other freebie websites when developing the policies expressed on these pages. Create a "Testimonials" page that allows satisfied customers to post pictures with their prize along with their testimonial.
Consult with an attorney, accountant and insurance agent to ensure that you have covered all legal and financial concerns in establishing your IFW. You will need a liability insurance policy; although your products are being "gifted," you are still liable for any harm caused by a malfunctioning Xbox or other product. In order to obtain a policy, you will need to register your business with your county clerk. If possible, use your domain name as your business name and register your business with your county clerk's office.
Advertise your site. Post links to your site on relevant forums where users are looking for freebie sites. Put a link to your site in your signature. Utilize Google Adwords, which is a program offered by Google that advertises on sites based on customer searches or location.
Allow 2 to 3 weeks as a buffer for shipping out your prizes. This gives you enough time to shop around for a deal on the prize that will be sent. If you have enough upfront capital, consider buying in bulk to save even more on your prizes. If you will offer many electronics, such as Nintendo Wiis and iPods, consider opening a rewards account at Best Buy or other electronic stores that give you points towards a store gift card for every dollar spent.