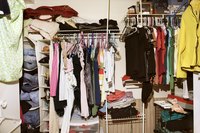 Looking your best involves playing to your individual attributes. Choosing clothes that suit your pear shape can increase your chances of making a serious fashion statement. Flattering clothing is available if you have a plus-size, pear-shaped figure--as long as you know how to find and utilize it in your wardrobe.
Pick shirts and blouses that draw attention to your face and away from your lower body. Select shirts with interesting features such as high collars or extra-large buttons. Opt for shirts in vivid colors such as cherry red, royal blue or lime green. Ensuring that your top is a lighter color than your bottom can help you camouflage the contrast in your upper and lower body proportions. Avoid wearing dark tops with light bottoms, as this can make your lower body appear even larger.
Opt for wide leg pants to help minimize bulkiness below the waist. Suitable options include boot cut, flare leg or bell-bottom styles. Stay away from straight, skinny or tapered leg styles, as they can make your thighs and legs seem larger. Select pants made of breathable and stretchable material such as cotton for greater comfort.
Choose patterns wisely. Since patterns can alter perceptions about the width, length and overall "balance" of your proportions, use them to avoid exaggerating your pear shape. Select larger patterns for shirts and blouses to make your torso appear larger, while opting for smaller patterns for skirts and slacks to minimize your legs and thighs. Wear slacks and skirts with vertical stripes to lengthen your legs, while wearing shirts and blouses with horizontal stripes to add volume to your torso.
Wear interesting accessories. Pieces such as chunky necklaces or hair chopsticks detract attention from your lower body. They also give you a chance to show off your personality, which can elevate your confidence and overall appeal to others. Don wide belts or thick-heeled shoes to break up patterns and help define your shape.