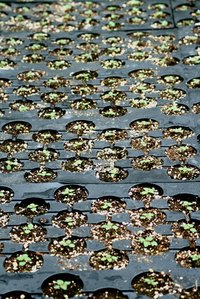 A plant nursery is a place, usually a business, where plants are grown to sell at a later date. Starting a home plant nursery can be a rewarding experience for someone who likes to work outdoors and grow plants. A home plant nursery is like owning any business, where costs must be controlled and a profit must be made. Most home plant nursery businesses start out small and grow as the amount of market share the business attracts grows. A home plant nursery can be established to provide plants for the retail market or to sell plants to the wholesale market that sells to the retail market.
Things You'll Need
Business plan
Enclosed work space
Growing location
Source of water
Plants
Planting containers
Put together a business plan that takes into account what you are going to grow, the size of your operation, who your customers will be and the estimated costs of doing business. This will help you plan your business, stay on track and control costs. Also, if you are thinking about geting a loan to finance your business, you will need a business plan to show the loan officer that you have a strategy for success. A good resource to learn how to write a business plan is the U.S. Small Business Association website.
Find a location for your growing operation. You will need an area where you can work out of the weather when potting and seeding plants. Most nursery owners combine this work space with a greenhouse where plants can be grown. The average size of a greenhouse for someone just getting started in the business would be around 1,000 square feet, but you can start much smaller or larger depending on your market. You need to provide ventilation and heating for the greenhouse, and provide a source of electricity or other fuel to run the greenhouse heaters. You are going to need irrigation lines close to the greenhouse and any outdoor growing areas. In addition, testing your water for its quality is important if using well water. If the water is very alkaline or acidic, you may need to filter it for optimal plant growth.
Research your local area and the Internet to find wholesale sources of plants and seeds, as well as potting mixes and containers. Do not pay retail prices for supplies, because everything you buy retail can be purchased wholesale. If you buy supplies retail, you cannot make a profit. Also research competing retail or wholesale locations to see what prices they are charging for the products you would like to produce. You may find that you cannot produce a certain product and sell it at the same price as a large department store or wholesale nursery without losing money.
Get to know your market before you begin to grow your plants so you can get an idea of how much to grow of each item you are planning to sell. This involves doing research to find out how many people live in your area and what types of plants they might be interested in buying. For example, a small town with many older people may produce customers that are generally interested in vegetable plants and a few herbs or flowering plants. On the other hand, people in a rapidly growing community with many young families would be interested in larger landscaping plants such as trees and shrubs.
Attract customers to your business by advertising in the local press, setting up a website with information about your business and products offered, doing presentations for local community organizations and offering tours of your facilities. The cost of advertising is going to vary greatly from location to location and may be prohibitive for a new business owner, but the cost of offering your plant-growing expertise to members of the community can be quite low. Local schools and organizations such as garden clubs are always excited to find speakers to visit their club meetings.