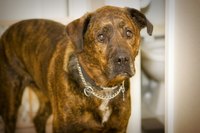 A flea infestation can be quite the headache, especially if you own pets. Fleas are tiny insects that are particularly fond of infesting the coats of house pets such as cats and dogs. Once a flea infestation breaks out, the best course of action to take is to contain it as quickly as possible before it can spread to furniture, beds and people. If you are wanting to take the thrifty approach to killing fleas, there are a couple home remedies you can concoct using everyday ingredients.
Things You'll Need
Citrus fruits
Large pot
Strainer
Rubbing alcohol
Jar
Dish soap
The Citrus Method
Purchase a bag or two of citrus fruits, depending on how much flea killer you need to make. You can use any kind of citrus fruits, including oranges, grapefruits, limes and lemons. You can even try a combination of fruits for this remedy.
Squeeze out as much juice from the fruits as possible. If you can, scoop out the pulp as well and discard.
Fill a large pot with water, add the fruit rinds and bring to a boil.
Turn the heat down to simmer. Allow the mix to simmer on the stove for several hours.
Scoop out the rinds once they are limp. Mash them to extract as much liquid as possible.
Collect this liquid and return it to the pot. Allow this concoction to simmer for a few more hours.
Remove the pot from the stove and let it sit to cool it or, to speed up the process, put it in the refrigerator.
Pour the liquid through the strainer and into bottles. The liquid will kill fleas on contact and can be added to a pet's bathwater as a safe alternative to chemical flea killers.
The Alcohol Method
Fill a small jar with about an inch of rubbing alcohol. This will be about a quarter of a cup.
Add a small amount of liquid dish soap. About a tablespoon will do.
Fill the remainder of the jar with warm water. Close the jar and shake it to mix the concoction.
Apply as a bath to the infected dog or cat and rub it in until you build a lather. Then, rinse. The mixture will kill fleas on contact.