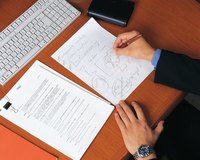 The first step in opening a small business and working for yourself is acquiring financing for operations, supplies, overhead, labor and rent. Finding financing for business start-ups can be challenging. It is possible if you have a good credit history, a solid business plan and some capital.
Pull a copy of your credit report. If you have poor credit, you must first fix the problems prior to applying for business financing. Business loans are large, and the more in interest you have to pay, the less you'll have for business operations. Go to www.annualcreditreport.com for a free copy of your report.
Exhaust all private financing possibilities. You must have rejection letters from finance companies, banks and investors. The Small Business Administration (SBA) will not finance any new business unless a prospective business owner cannot obtain financing elsewhere.
Find an SBA-approved lender in your area (see Resources). The SBA is the federal government's administration in charge of stimulating and encouraging small businesses in the U.S. SBA loans are most often lower-cost than private, nongovernment loans.
Check your eligibility for a 7(a) loan. This is the best loan for a small business start-up. The terms are flexible, and the funds can be used for everything from labor to machinery to supplies to property. In general, your company must be for-profit, do business exclusively in the U.S., and be an eligible business as determined by the SBA (see Resources).
Collect all documents relating to your business. This includes: projected revenue statements, business bank statements, Purchase and Sale Agreements for property, cost figures for supplies and labor and personal capital disclosures (bank statements).
Apply for the 7(a) program at your SBA lender. Give your loan officer all documents listed in Step 5. You may need to present additional information to complete the application.