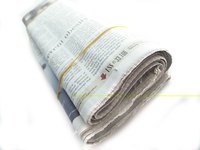 Newspaper ads, one of the oldest forms of advertising, are still an effective way to reach your market. Running an ad in a newspaper can vary widely in cost, depending on the type of ad and the publication you choose. By understanding the basics of creating ads and purchasing ad space, you can make a newspaper ad that is both cost effective and beneficial to your business.
Learn how newspaper ads work before you begin making your advertisement. Newspapers are split into columns, and the cost of an ad is calculated according to the number of column inches, or the width and height of the ad. Call newspapers in your area and ask for advertising rates per column inch. Rates may also vary according to the section where the ad is placed. Use this information to get an idea of an affordable ad size for your business.
Develop your ad to target your customers. For example, an ad for lawn maintenance may do better in the lifestyles or real estate section to target homeowners and businesses that need to maintain property. Look at the ads in these sections to see how other businesses use headlines and photos to create effective ads. Write down ideas for headlines and ad copy that will draw readers to your business. Try to use your ad copy to solve a problem for your readers. Try offering faster delivery service or a product guarantee to solve problems customers may have with your competitors.
Start creating your newspaper ad in a word processing or graphics program like Microsoft Word or Adobe Photoshop. Keep in mind the number of column inches you have to work with to make sure font sizes and layout will work at that size. For small ads you may need to stick with text only, while larger ads may be more effective with photos. Choose professional photos relevant to your business. In other words, don't use pictures of cute puppies to attract viewers if your business has nothing to do with puppies. Make sure to include room for contact information and the address of your business website.
Format several versions of your ads and ask a friend to critique them for errors and effectiveness. Contact the editor that handles advertising at the paper. Ask the editor for information on the format you should use to send your ad, and the deadline for publication. Make sure to turn your ad in before the deadline or it may not make it into the paper. Editors will need time to proof the ad and integrate it into the page layouts.