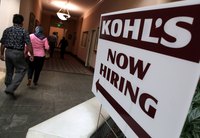 Kohl's is a department store that offers a wide range of products and brands. Prices are great for the quality of products that you receive and this can be made even sweeter by combining the prices with great coupons and deals.
Sign up for email newsletters. Go to the official Kohl's website and sign up for an account. You can sign up for Deals Alerts. By doing this, you will receive coupons in your inbox, and valuable offers and savings sent straight to you.
Utilize Kohl's credit. The Kohl's charge card can actually save you a lot of money. Throughout the year, this card has exclusive offers and savings available only to those that hold the charge card. These deals can be redeemed online and off through the Kohl's website and at their physical retail store.
Use coupon codes for online shopping. There are always a coupon code or two online that you can use. Kohl's coupons are great because you can generally get free shipping and save 10 percent to 20 percent off your entire purchase.
Take advantage of their clearance events. In store and online, you can take advantage of great Kohl's clearance events. During these events, items can be marked down up to 80 percent, so you can save a lot of money on some of your favorite brands. If you combine the online sales with the Kohl's coupon codes that can be found online, you can increase your savings even more.
Look for deals. Check out Slick Deals from time-to-time. Look on the front page and see if there are any Kohl's sales and specials listed. Sometimes you will be able to find amazing deals that you would not otherwise be able to find on your own.